Quality Policy
Perfect Product Quality through customer-oriented Action
Specifications and other agreements have to be defined in collaboration with the customer to define the ideal and possibly individual solution to meet customer´s requirements. Delivery dates have to be met. Deviations from any agreement have to be reported to the customer as early as possible. The customer should always be included in product improvement and new product development processes.
Optimization of Working Processes
Each individual employee is responsable for the process step entrusted to him within the process flow. It is the employees responsibility to carry out his step to the very best of his knowledge and most conscientiously. The scope of each process step has to be defined. Each employee has the entitlement that the previous step has been carried out to full extent. Simultaneously he has the obligation to carry out his own process step to full extent to ensure ideal conditions for the following steps. Each employee is encouraged to actively take part in the improvement of the process step entitled to him.
Qualification and Motivation of Employees as a key to improving and assuring a high Quality of Products
Qualified and motivated employees are essential for carrying out each single process step and as a result the overall process, in a perfect manner. Motivated employees are the driving force behind a continuous development. That is why we create an environment in which employees continue their education and each individual is able to contribute to reach the company´s goals.
Avoiding mistakes and eliminating causes as a preventive contribution to Quality
Quality relevant process steps must be identified. The impact of mistakes has to be determined and appropriate preventive and protective measures have to be taken for minimization of impacts.
Quality of our Suppliers and Service Providers has a significant impact on the Quality of our Products
Suppliers and service providers have to be included in the development of processes in early stages and should be supported by the definition of their quality goals where ever required. The quality of the materials and services provided has to be specified in detail.
Quality Management
A good Quality management is key to full customer satisfaction and constant improvement of product quality and processes. Bucher has a twenty year manufacturing experience under full-GMP conditions and has been supplying the semiconductor industry for more than 30 years now.
In close collaboration with our customers, we have been able to fully understand the requirements of our customers and to implement systems that ensure and guarantee a high quality level and to always meet our customer´s expectations. Our system is ISO 9001 certified and has been audited by a wide range of pharmaceutical and electronic materials companies.
Quality Control
Well characterized and steady Impurity Profiles as key to process reliability 
The high level and high value applications of our products at our typical customer range requires well characterized products with a defined and reproduceable impurity profile. To address the increasing requirements of our customers we have built a broad expertise in analytical methods and monitoring of our product impurity profiles to ensure a steady quality and to allow our customers to evaluate influences on their down stream processing for risk reduction.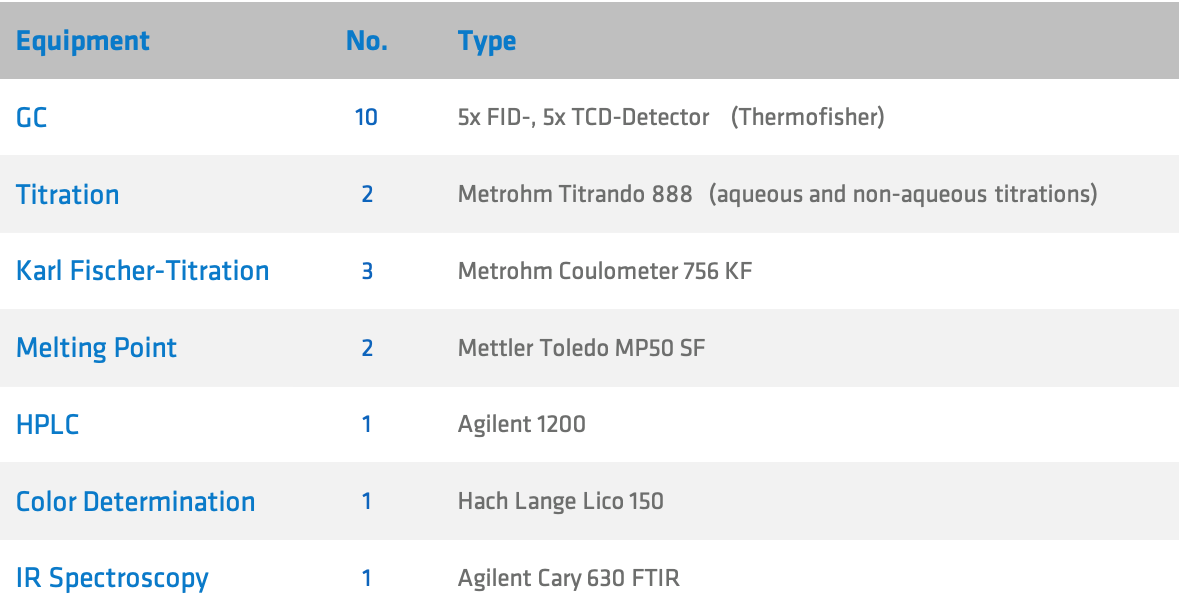 Quality Control works under ISO 9001 and GMP standards where required.
Besides a small number of special analytical methods, all analytical work is carried out in house by our trained staff.
Production Quality Standards
All production processes and their documentation is designed to meet our clients typical requirements:
Cleaning equipment according to written procedures and testing for cleaning effectiveness
Traceability: Batch Records are designed to guarantee full traceability from final products to raw materials thru all stages
Validation of Analytical Methods
Strict Change Control Program
Maintenance and calibration program for all process relevant equipment parts
Maintenance and calibration program for QC equipment
Product Stability Studies
Raw Material Supplier Qualification
ISO Certificates